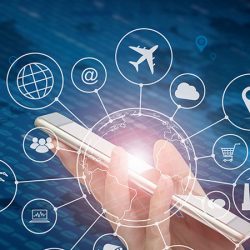 IoT Threats and Vulnerabilities
Sanjay Goel and Kris Kusche
Presented on: Wednesday, December 11th
1pm EST / 10am PST
New solutions and technologies to protect sensors, and the information they provide, must be integrated into existing and future platforms of mobile phones, cars, ships, airplanes, drones, medical devices, robots, and infrastructure.
We collect beauty & passion.
With the Department of Defense (DoD) ramping up its focus on cybersecurity for the supply chain, manufacturers will need to take specific steps to protect covered information if they want to continue doing business with DoD.
With current and future DoD contracts at stake, compliance is a strategic necessity that contractors cannot ignore. And with third party certification audits to be conducted in 2020, time is running out for manufacturers to reach compliance. To help navigate this new terrain, a team of cybersecurity experts will be conducting webinars to help manufacturers understand the consequences of non-compliance and how to ultimately achieve compliance.
Are you a manufacturer looking to learn more about how you can protect your business online? Get Started Now.
About SUNY Albany
An anchor institution for cybersecurity in New York's Capital region, SUNY Albany (UAlbany) is a public research institution with security expertise extending through three colleges. The nationally recognized Digital Forensics program in the School of Business was established in 2014; built on a decade-long foundation of information security research and pedagogy. It has been accredited as a National Center of Academic Excellence in Cyber Defense (CAE-CD) program, and Center of Academic Excellence in Research (CAE-R) by the National Security Administration. A guiding principle of the Digital Forensics program is to bring immediacy to security education through novel pedagogic concepts and methods, laboratory research, and applied learning-based discovery. UAlbany has a Cyber Innovation Lab, a quarantined lab that facilitates research on active malware security and cyber resiliency, and two cybersecurity research centers, The New York State Center for Information Forensics and Assurance (CIFA), and Forensics, Analytics, Complexity, Energy and Transportation Security Center, (FACETS). About FuzeHub
FuzeHub is a not-for-profit organization that connects New York's small and mid-sized manufacturing companies to the resources, programs and expertise they need for technology commercialization, innovation and business growth. We help companies navigate New York's robust network of industry experts at Manufacturing Extension Partners (MEP) centers, universities, economic development organizations and other providers. FuzeHub is the statewide New York MEP center, supported by Empire State Development's Division of Science, Technology & Innovation (NYSTAR).