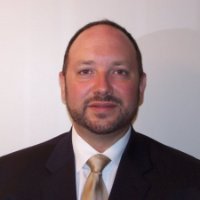 Kristopher Kusche is the Vice President and Chief Information Security Officer for the Albany Medical Center in Albany, NY and is a frequent speaker at national, state and regional forums on cybersecurity, IoT and medical device management issues. His current duties include responsibility for all aspects of cyber security and assurance. Kris is also a biomedical engineer and has responsibility for the Medical Center's medical equipment management program. Past leadership roles included responsibility for the clinical systems, integration, data architecture and infrastructure teams.
Mr. Kusche earned his bachelor of science and master of engineering degrees (M.Eng.), both in Biomedical Engineering, from the Rensselaer Polytechnic Institute in Troy, New York, and currently holds certifications as a Certified Information Systems Security Professional (CISSP) and a Healthcare Certified Information Security and Privacy Professional (HCISPP) from the International Information Systems Security Certification Consortium (ISC2) and as a Certified Professional in Healthcare Information and Management Systems (CPHIMS) from the Healthcare Information and Management Systems Society (HIMSS).
Mr. Kusche served for seven years as the National Vice Chair of the Technology and Facilities Management Council of the University Healthsystem Consortium (UHC), served on multiple HIMSS task forces related to medical devices and IT security, is an active Advisory Board member for the ECRI Institute Health Devices program, serves on the Industry Advisory Committee for Excelsior College, and was a faculty member for the University of Phoenix's Online Campus College of Information Services & Technology. Mr. Kusche is a HIMSS Fellow, a CPHIMS certification instructor, a past member of the CPHIMS Technical Committee, and is the past Chair of the HIMSS Privacy & Security Committee. Mr. Kusche served on the Board of Directors as the Past-President, President, Secretary, and interim Treasurer for the New York State Chapter of HIMSS.