FuzeHub Fundamentals:
Hardware Prototyping Workshop
What does the digital badge signify?
The FuzeHub Fundamentals digital badge signifies that the recipient successfully completed the indicated program. In this case, the FuzeHub Fundamentals Hardware Prototyping Workshop badge identifies recipients who participated in a full day, in-person workshop that covered a range of product development topics for manufactured goods (hardware). Presentations and hands-on workshop sessions were administered by experts in various fields, including: business development, design, engineering, prototyping, manufacturing, marketing, and funding.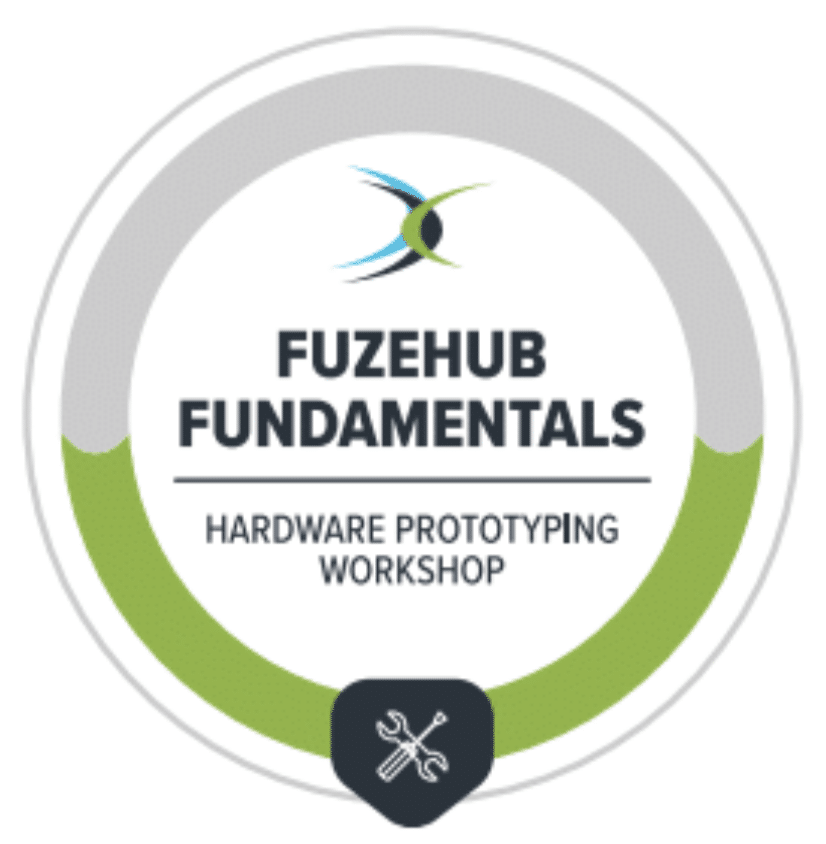 What did participants learn?
After a vetting process to ensure participants were qualified to attend the workshop, the event equipped hardware innovators with the information they need to create manufacturing-ready product designs, avoid common mistakes that lead to costly rework, and effectively partner with contract manufacturers.
Specific lessons delivered by on-site experts included:
How to optimize product design through DFM and lean product design techniques.

Removing complexity from product components and manufacturing processes, and identifying potential manufacturing/assembly issues early in the product development process.

How to find resources to support engineering, prototyping and testing.
Developing an intelligent Bill of Materials to lower costs.

Preparing the necessary documentation and files required by a contract manufacturer.

Marketing strategies to generate product interest and market demand.
Detailed Workshop Agenda:
Welcome / Introductions –
Dr. Everton H. Henriques, MA, HON., Director of Manufacturing Initiatives, FuzeHub Dr. Darrell P. Wheeler, President, SUNY New Paltz
Product Development Overview, Design Principles, Case Study-
Eric Fasser, Solutions Program Manager, FuzeHub
Workshop Session: Initial Pitch, Prototype Status- All instructors/mentors
Where to Find Resources: Engineering, Prototyping, Intellectual Property, Customer Discovery- Eric Fasser, Solutions Program Manager, FuzeHub
Workshop Session: Design Review, Customer Feedback- All instructors/mentors
Prototype Iteration, Developing a Drawing Package, Testing/Certifications, IP- Bob Incerto, Director of Engineering Consulting Services, MTEC
Develop an Intelligent BOM, Part Numbering, Estimating Costs- Eric Fasser, Solutions Program Manager, FuzeHub
Workshop Session: Bill of Materials- All instructors/mentors
Business Support, Hot Spot Services- Kristin Backhaus, Dean of the School of Business, presented on behalf of Eliza Edge, Program Director, Hudson Valley Venture Hub
How to Identify Funding Opportunities-  Patty Rechberger, Innovation Fund Manager, FuzeHub
Tour of New Paltz 3D Printing Facilities, Technologies, Materials- Kat Wilson, Associate Director, Hudson Valley Additive Manufacturing Center
Best Practices when Partnering with a Contract Manufacturer- Alethea Schaeffer, VP Sales & Engineering, USHECO
Workshop Session: What is Your Next Hurdle?- All instructors/mentors
Marketing for Manufacturers- Steve Melito, Senior Solutions Specialist, FuzeHub
Process Review: Iterate Design, BOM, Lean Practices, Lock- Eric Fasser, Solutions Program Manager, FuzeHub
What other FuzeHub Fundamental Opportunities are there?
FuzeHub provides New York State manufacturers and technology companies with guided access to our extensive network of industry experts, programs and assets to solve productivity, commercialization, research and development issues, and other challenges to growth.
FuzeHub's programs champion the New York State manufacturing and technology community and provide targeted resources to accelerate manufacturing competitiveness and technology commercialization.
Companies have been engaging with FuzeHub since 2014. We have assisted manufacturing and technology companies in a variety of ways, whether through business and technical solutions provided by our in-house experts, or via our Jeff Lawrence Innovation Fund.