Infrastructure isn't usually top of mind when discussing innovation, but there's a growing market for technologies that can speed up projects, manage construction costs, and minimize human error.
Behind the modern-day jobsite are companies like neARabl, a startup that was spun out of the City College of New York Visual Computing Research Laboratory. The research was sponsored by the National Science Foundation through the Smart and Connected Communities (S&CC) Program and the Partnerships for Innovation (PFI) Program, a partnership with Bentley Systems, Incorporated and a collaboration with Rutgers University and Lighthouse Guild.
The company has developed software that combines accurate indoor navigation with augmented reality resulting in more efficient project management.
The software also provides real-time updates to offsite stakeholders like project managers and building owners.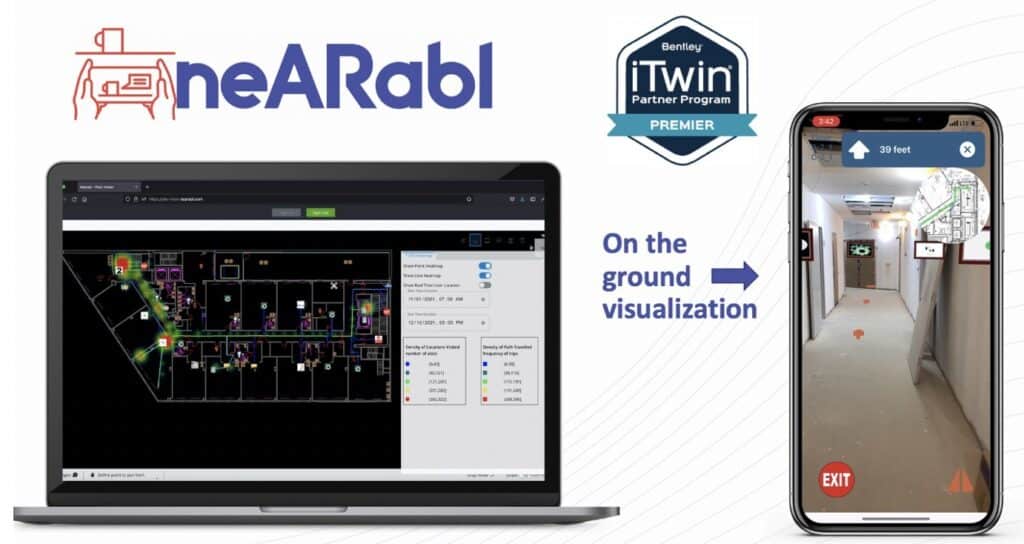 But this game-changing technology wasn't meant for construction — at least not at the outset.
neARabl founders Jin Chen, Arber Ruci, and E'edresha Sturdivant knew they had a powerful technology application. Their precise indoor navigation solution brought real accuracy to indoor spaces — to within 1 centimeter — where traditional GPS systems were lacking.
At first, they saw their mobile application as a way to help people who are blind or visually impaired navigate indoor spaces. While the initial vision showed potential, there wasn't any demand for the product to take off.
The company then pivoted to indoor navigation for first responders — a potentially life-saving application for its technology, enabling firefighters and paramedics to access, navigate, and ultimately, safely exit spaces that they have never been in before. Similarly, the founders learned that there wasn't substantial demand in this sector, as safe building egress is a very small portion of first responders' daily jobs.
Not to be discouraged, the company used the technology's versatility to adapt to market needs, which were uncovered with the help of their partners in industry and innovation.
So neARabl began the process of transforming the infrastructure sector.
While taking part in the U.S. National Science Foundation's Innovation Corps' immersive seven-week program, the neARabl team interviewed 113 potential customers, discovering the market that most needed its technology was infrastructure.
The feedback they heard was that infrastructure professionals could use neARabl's technology to visualize their digital twins on the ground, keep multiple stakeholders updated in real time, visualize workflows, and save significant money on physical signage at job sites by going digital. And the response was strong. Today, the company's software is deployed on five job sites including in New York City, while preparing to launch its technology at job sites in the western United States as well as overseas.
Through the entire process, the company has leveraged the expertise and support of 13 different centers backed by NYSTAR — Empire State Development's Division of Science, Technology and Innovation.
Ruci, the company's CEO, had experience navigating the NYSTAR Innovation Network, having led the New York City Innovation Hot Spot for five years.
"I knew the rich resources that were available throughout the state and how committed New York and NYSTAR are to cultivating collaborative innovation," Ruci said. "And it's not just in New York City. We received support from the Western New York Incubator Network, the New York I-Corps Hub at CUNY and Central NY Biotech Accelerator at Upstate Medical University.
"Key for us as well was the New York State Science & Technology Law Center, which is based at Syracuse University. They helped us ensure our technology didn't infringe on any other company's intellectual property."
With solid grounding from the NYSTAR ecosystem, neARabl has partnered with Bentley Systems, Incorporated (Nasdaq : BSY) — an influential global infrastructure engineering software company. This partnership allows neARabl to adopt the iTwin Platform and earned the powered by iTwin designation, which serves as a channel enabler to a large ecosystem of architecture, engineering, and construction firms, developers, and Bentley partners building digital twins and the infrastructure metaverse.
"This partnership is a gigantic step towards establishing our imprint on the infrastructure market. As an academic spin-out, integrating with Bentley's open-source digital twin technology was a no-brainer for many reasons," Ruci said. "Where we found the most value was in familiarity and ease of use for our end-users — we launched as a mobile-first application to great initial early reviews of our mobile visualization, but soon enough we realized that our end users were much more comfortable editing and changing neARabl mobile content on an iTwin desktop/web interface. We quickly integrated the process and have been deploying it in some cool places."
neARabl's solutions have served diverse audiences including not only construction site managers but digital tourists, people with low vision, and metaverse enthusiasts. To find out more about the technology, visit nearabl.com.