Meet CLIP
CLIP is a Brooklyn-based company building a portable electrical propulsion device that turns any bicycle into an e-bike. A supporting smartphone app enables riders to track their progress and savings and to form a community based on sharing route information.
"The goal is to create a platform so all those dormant bicycles lying around can be turned into a dependable mode of personal, low-cost mobility," said Somnath Ray, CEO of CLIP. "We want to get more people to bike to work, which would be one of the fastest ways to reduce greenhouse gas emissions and urban congestion."
Although all current sales are in the United States, Ray's mission is to make e-biking accessible to people in his native India and other emerging economies.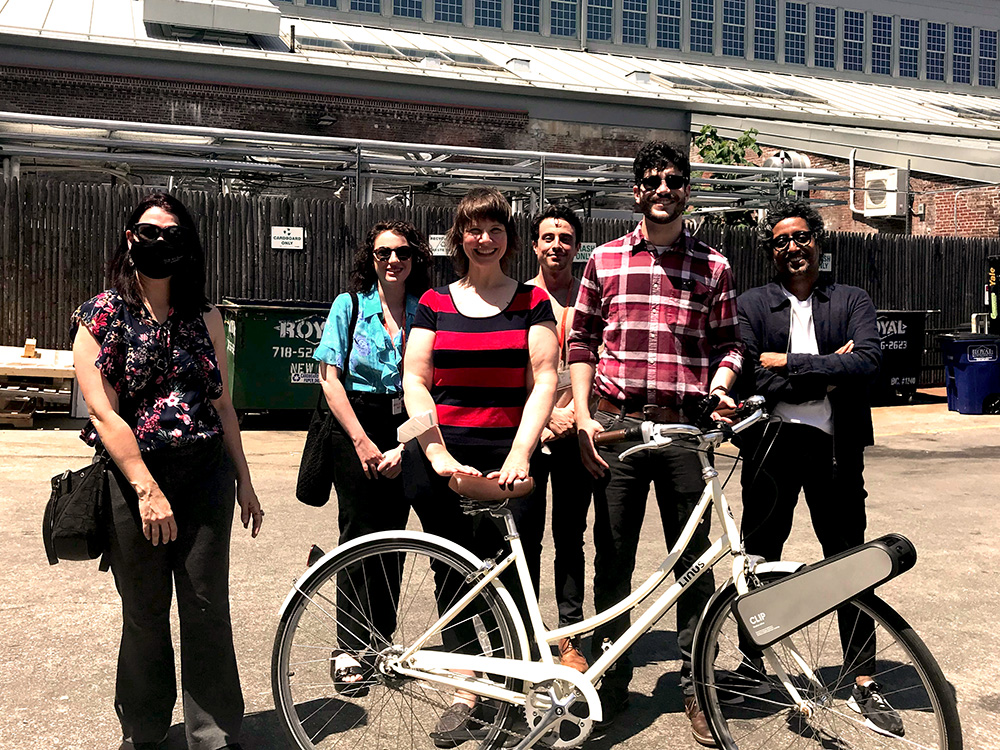 Pedaling uphill
Ray started his career as an architect in India before moving to the United States in 2004 to pursue a master's at Columbia University. He then went to work on a second master's at MIT, where he worked in the university's Media Lab.
"That's where I really got involved with urban mobility and industrial design," he said.
After graduating from MIT in 2009, Ray returned to India with the idea of building electric auto rickshaws. He could not raise the money to pioneer what is now a billion-dollar industry in India. So, he started a design consultancy and then a software company whose clients included large US companies. This brought him back to the States. In 2016, he joined a company founded by a few of his MIT friends in the Brooklyn Navy Yard as Creative Director.
He enjoyed biking to work, but much of his commute was up the steep Vanderbilt Avenue.
"I had a new bike, so I didn't want to buy an e-bike," he said. "Plus, with the typical commute, you only need assistance for 30-40 percent of the ride. A typical e-bike is a design and engineering overkill. I thought it'd be nice to have a smaller device I could carry with me and attach to my bike, converting it into an e-bike when I needed it."
It was at about this time that Ray met Clement DeAlcala, who became his partner in founding CLIP.
"Clem came with experience in sales and employing sustainable tech in different parts of the world, so he was the ideal person for me to go to for this," Ray said.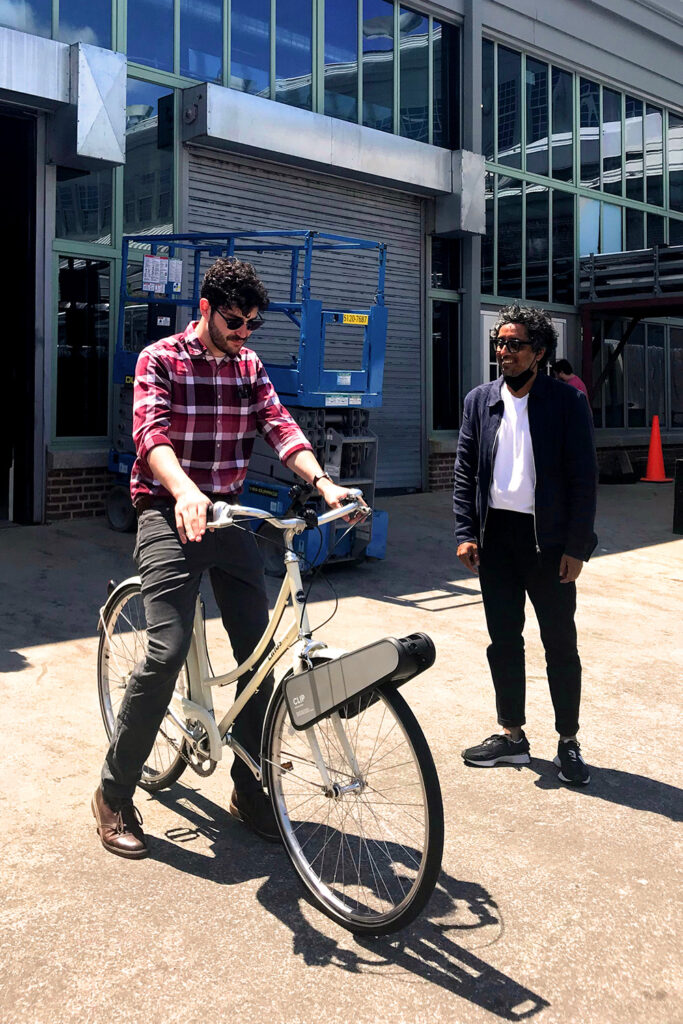 Rolling along
Ray and DeAlcala started CLIP in 2018, building a prototype of Ray's invention and doing proof-of-concept work. The following year, they raised pre-seed capital from friends and family and got an additional boost from outside. During the pandemic, they stayed home and focused on engineering and design.
CLIP really started rolling in 2021. It raised $1.65 million in seed funding and, in collaboration with the Brooklyn Navy Yard Development Corp., applied for and received a $50,000 FuzeHub grant. It used the money to accelerate the design-for-manufacturing process to build, test and green-light the final version of CLIP and move into manufacturing. Today, the last mile assembly and final quality control checks take place in Brooklyn.
CLIP quickly garnered attention in the form of creative awards and national media coverage. Without spending a dime on marketing, it received 1,000 preorders. So far, it has shipped out 100 units to customers who are providing feedback.
The road ahead
CLIP now is in the process of raising a second round of seed capital to build a second batch of 1,800 units for sale in the United States.
"I am also developing the next version of CLIP, which is being designed specifically for India and emerging economies," Ray said. "The cost of this next version will be very low. We also are exploring ways to enable battery swap so people can rent these devices."
The company also is eyeing Europe. Within five years, it expects to have CLIP running on "hundreds of thousands of bikes" worldwide.
"We are not a company that is simply building a novel consumer product," Ray said. "We are in the business of building a clean-mobility platform for low-cost urban mobility, so we'll have multiple products in this ecosystem, a whole bunch of ways to encourage people all across the world to adopt bicycling as their prime mode of mobility."