Meet Electroskip LLC
Electroskip™ LLC is a Buffalo-based, FDA-registered manufacturer of patented technology for gait training and neuromuscular reeducation. The company's flagship product, Eskiptrainer™, utilizes wireless, wearable footwear electronics that generate auditory biofeedback and instantaneous gait analytics to assist patients with walking disabilities such as Parkinson's Disease and other debilitating conditions.
"We made something simple-to-use that brought the world of gait analytics into the clinic and made them immediately available to the clinician, while at the same time providing this overwhelmingly engaging experience for the patient," said Jamie O'Neil, co-inventor and CEO of Electroskip.
First steps
Electroskip technology got its start about a decade ago as a project at Canisius College, where O'Neil is a professor of digital media arts. Prior to his tenure there, he had worked with professional dance companies to trigger video scenic effects in real-time based on input from the dancer's movements. At Canisius, he joined a research group with physics student Jon Mrowczynski and music professor Dr. Bill Sack, developing electronics that made music from sensors. The footwear electronics were intended to create beats so "break dancers and electronic musicians could jam out together," O'Neil explained.
It was in 2015 that things became serious. O'Neil and his research partners began working with Coleman Fellows, a Chicago group that provides entrepreneurship training to professors. This led O'Neil and his colleagues to attend a Buffalo workshop about pre-seed funding. When they applied to present their technology publicly, the application asked if they had a patent. They did not, but quickly filed for a provisional one.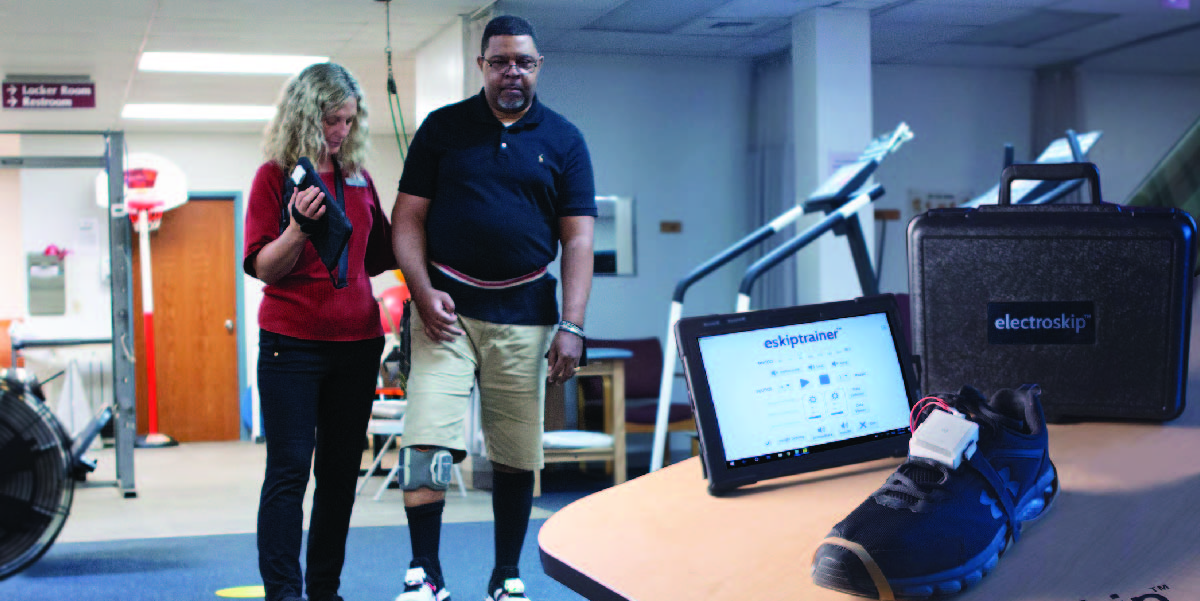 The company's first patent was issued in 2019. At this point, O'Neil came to a realization that would change the company's direction.
"At the time, we thought we would be selling to dancers and musicians, but while they were great to work with, they didn't have the money to buy our custom-made electronics," he said.
One of the dancers he was working with was also a physical therapist, who recognized the value the technology could have for patients with movement disorders.
"We realized that if we wanted to make this sustainable, we had to make it a medical product," O'Neil said.
Eskiptrainer is a turnkey kit that includes a tablet and its own wireless network that does not interfere with the medical facility's Wi-Fi. The clinician does not have to be a "techie" to use it either. Sensors and transmitters attached to the patient's feet produce sounds—and data—as they step, providing immediate analysis of their gait. The music gives patients something to think about other than the act of walking itself which turns out to be the #1 disability in the US (mobility issues).
"It has become a portable system to objectively measure how well someone is walking and implement interventions that are based on biofeedback that is fun and engaging," O'Neil explained.
Making Strides
Before Electroskip could sell its kit, it had to manufacture it and get it registered with the FDA. This required money, so the company entered FuzeHub's 2019 Commercialization Competition and won a $50,000 prize. That same year, O'Neil, in his role as a Canisius professor, received a $20,000 FuzeHub manufacturing grant.
These funds enabled Electroskip and its manufacturing partner, Buffalo-based K-Technologies, to complete the design for the manufacturing process for Eskiptrainer. Electroskip also hired Buffalo-based Compliance Team who determined the product was best categorized as a Class II biofeedback device. The consulting firm also assisted with building out a regulatory pathway, designing controls, and making the necessary filings with the FDA.
In 2020, O'Neil received a second FuzeHub manufacturing grant, this one for $34,000, which he used to address FDA compliance and expand manufacturing with K-Technologies, improving key features and product usability. That year, Electroskip—working with Woods Oviatt Gilman, a Rochester law firm—received its second patent.
"We were really enabled by FuzeHub because they provided the funding for us to manufacture enough product for us to build out our research network," O'Neil said. "That is basically what those two years were about."
FuzeHub's Manufacturer Solutions Program also provided assistance by connecting O'Neil to Dr. Daniel Walcyzk from Rensselaer Polytechnic Institute in Troy. Dr. Walcyzk recommended some modifications to the design of a foot sensor that helped to extend sensor life.
Walking the walk
Eskiptrainer is now in its second year as a registered medical device with robust sales to three main groups: medical researchers, physical therapists (PTs) and other clinicians, and professional trainers who work with Parkinson's patients. But Electroskip is not standing still.
"We just got our third patent, and we are thrilled about it because it connects our electronic music technology specifically to biofeedback and gait analytics, which is what our product is," O'Neil said. "The other big news is that we recently presented the latest study from our research group at Upstate Medical in Syracuse at the national PT conference. It showed very promising results for cadence modulation, the ability to control how fast or slow Parkinson's patients walk."
The next step will be a product for home use. O'Neil said nearly all patients who try Eskiptrainer want to do it again and many ask if they can use it at home.
Starting this summer, the company will work with Parkinson's patients at a training organization in Syracuse to teach them how to use the Eskiptrainer in order to begin to evaluate home use.
"We envision a system that could create your own prescriptive song," O'Neil explained. "If we can capture how you walk and see that as analytics, we can take those and push them through a music system to generate a song for you that you can put on an app and listen to as you take a walk in your neighborhood."
The idea is to make "homework" from a therapist or trainer fun so that the patient is more likely to adhere to prescriptive exercise. Home use also will enable an analysis of how the patient walks in real-life circumstances rather than at a gait lab.
"People in the future will be able to get a gait score to tell them how well they walked each day and clinicians can use that data to understand which interventions work," O'Neil said. "That will be a very valuable way for us to develop a data-driven model for gait training, therapy, and evaluation."
But at the moment the company, and other electronics manufacturers, are facing a big challenge brought on by the COVID pandemic—a shortage of computer chips.
Because of its work with FuzeHub, Electroskip has ample product inventory it can sell. However, as chips advanced, it updated its software to add new features. Now that these advanced chips are not available, "we need funding to reengineer older chips to be compatible with our latest software," O'Neil explained. "That is a difficult thing to get funding for."
He understands, however, that neither the pandemic nor the chip shortage will last forever.
"We are living through a time that is so hard on us in terms of our future vision," he said. "But we are going to get through this. The future is bright for the smart shoe industry"