Natural Beauty Breast Prosthesis of Hamilton, NY manufactures an all-natural, organic fiber breast form for women who have had mastectomies without reconstruction or with explant surgery after reconstruction. The forms attach to the bra instead of the body for all-day comfort and security.
"Our goal is to help these women look, move, and feel like their natural self without doing any further harm to their bodies," said Jill Nelson, Owner and CEO of Natural Beauty.
"I can do this"
Nelson, a massage therapist who works with oncology patients, first got the idea for Natural Beauty five years ago. A client was venting her frustration with the breast forms available on the market, all of which were synthetic–either polyurethane or silicone. They were not only uncomfortable but also known to squeak and cause sweating and skin irritations. Plus, they were either too heavy—resulting in neck and back pain—or too light to stay put under a woman's bra.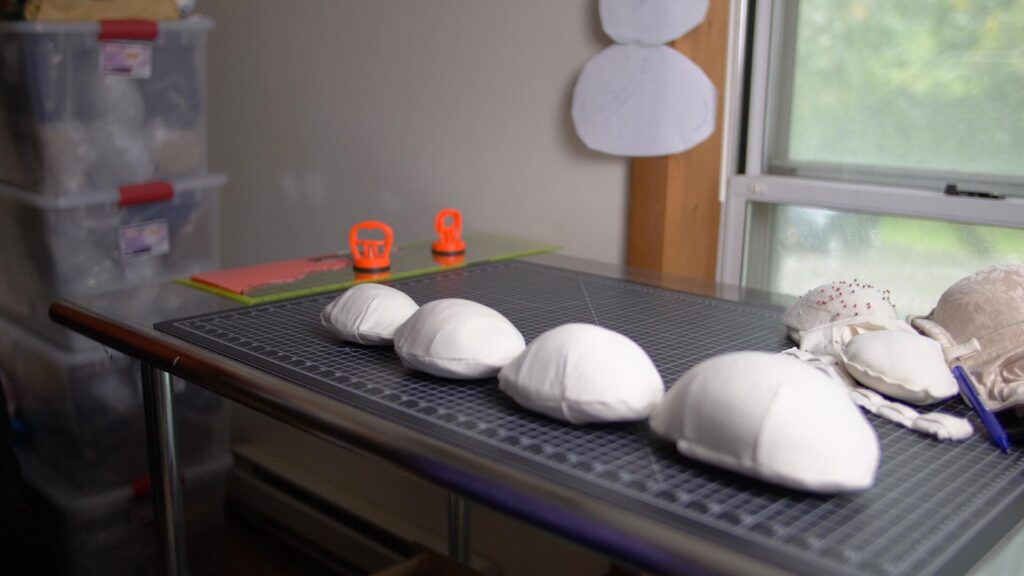 "As soon as we had that conversation I was saying 'there has to be something out there. I can't believe there is nothing that addresses all these issues. Someone has to make these,"
Nelson recalled. "And as the words were coming out of my mouth I was thinking 'I can do this.' It was literally within that two-minute conversation that everything changed."
She set out to determine not only how to make a product that could address all of the pain points, but also how to make it scalable for manufacturing in large quantities.
"There had not been anything out there at all like this, so I knew as soon as it got out there, we would have to make a lot of them," she said.
"How far we've come."
At one point, Nelson planned on outsourcing her manufacturing and although that arrangement did not work out, "we learned a lot from that experience and so we pivoted and decided to come back to in-house manufacturing."
Then, in the fall of 2021, Natural Beauty was a $50,000 winner in the FuzeHub Commercialization Competition. It used the money to purchase new equipment and hire a part-time team member, enabling the company to streamline its manufacturing process and increase productivity, accelerating its go-to-market plan.
"The competition prize also gave us the resources for the materials and supplies to make our first 1000 units," Nelson said. "So that has helped immensely in terms of our progress and how far we've come."
The company is now in small-scale production, with the first 1000 units slated for completion by November. It also is in the process of acquiring manufacturing space in Sherburne, NY, enabling it to put all of its equipment under one roof. The goal then would be to hire another three or four people and ramp up production.
Expanding the brand
At the moment, Natural Beauty breast forms are available for pre-sale to individual customers on the company's website, with the first shipments expected at the end of July. Plans also call for small wholesale accounts with doctor's offices, oncology centers, and breast form fitting boutiques.
"Plus, right now we are reaching out to breast cancer support groups and the like," Nelson said. "The goal is once we are able to scale up with manufacturing and production, we can get into doing bigger wholesale. Then we want to get into medical device suppliers and that type of thing."
As for the future, Nelson said it is all about expanding the brand. Plans call for forms that match all skin tones, as well as interchangeable attachment straps that match a variety of bra colors.