FuzeHub and NAmTrans recently led a delegation of ten New York State manufacturers to Aeromart Montréal, a tradeshow and conference for the global aerospace industry, that was held from April 4 to 6, 2023 in Montréal, Canada. The trip was made possible by a Global NY grant that enabled the ten manufacturers, NAmTrans, and FuzeHub to attend this three-day event at a significantly reduced rate.
FuzeHub, the statewide New York Manufacturing Extension Partnership (NY MEP) Center, and NAmTrans, a strategic subsidiary of the North Country Chamber of Commerce, had partnered on previous events for New York State's transportation industry. NAmTrans is located in Plattsburgh, a city that's sometimes referred to as a "U.S. suburb of Montréal," the third largest aerospace hub in the world.
The ten manufacturers who joined the FuzeHub / NAmTrans delegation came from across New York State and included machine shops, contract manufacturers, 3D printing services, and other service providers.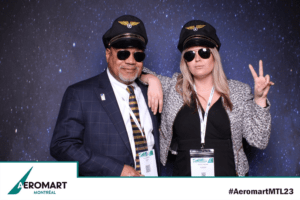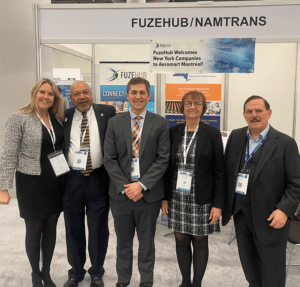 Although some of these companies are experienced aerospace manufacturers, others visited Montréal to break into the aerospace market. Similarly, some of the participants wanted to increase their exports while others learned about exporting for the first time. To assist this latter group, FuzeHub and NAmTrans provided a pre-event webinar with Global NY and the U.S. Commercial Service. A representative from the Canadian office of Global NY was also on-hand at Aeromart Montréal.
Most of the New York State manufacturers met with between 30 to 50 companies, either through pre-arranged meetings or impromptu visits to tradeshow booths. The entire NYS delegation was located in the same row of booths at the Palais des congrès de Montréal, a convention center in Old Montréal. In addition to meeting with companies from other countries, members of New York State met with each other. Today, several of these companies are considering doing business together.
If you'd like to know more, or if your company is interested in exporting, contact FuzeHub and speak to a manufacturing expert.