Featured Image (above) Doug Baxter (right) with HVCC students. Baxter is an Associate Professor of Mechanical Engineering at the Troy, NY college.
Hudson Valley Community College (HVCC) of Troy, NY offers small classes, a caring faculty, and over 80 degree and certificate programs. Douglas H. Baxter, an Associate Professor of Mechanical Engineering Technology there, recently invited FuzeHub's Ben Weinberg and other members of the Capital Region manufacturing community to attend student presentations about robotics, a hot topic because of its business value. 
"This was a very good experience," Baxter later shared with Weinberg, Tom Bell from the Center for Economic Growth (CEG), and several other attendees. "The students did some fine work."
At colleges and universities like HVCC, capstone presentations provide students with an opportunity to demonstrate their knowledge of a subject by solving real-world problems. HVCC students Austin Delisle, John Franklin, Mark Mootoo, and Alexander Zierer accepted this challenge and, under Baxter's direction, did so while using a UR5 robot on loan from FuzeHub. Made by Universal Robots, the UR5 is a programmable robotic arm with a reach of 33.5 inches (850 mm) and a payload of 11 pounds (5 kg).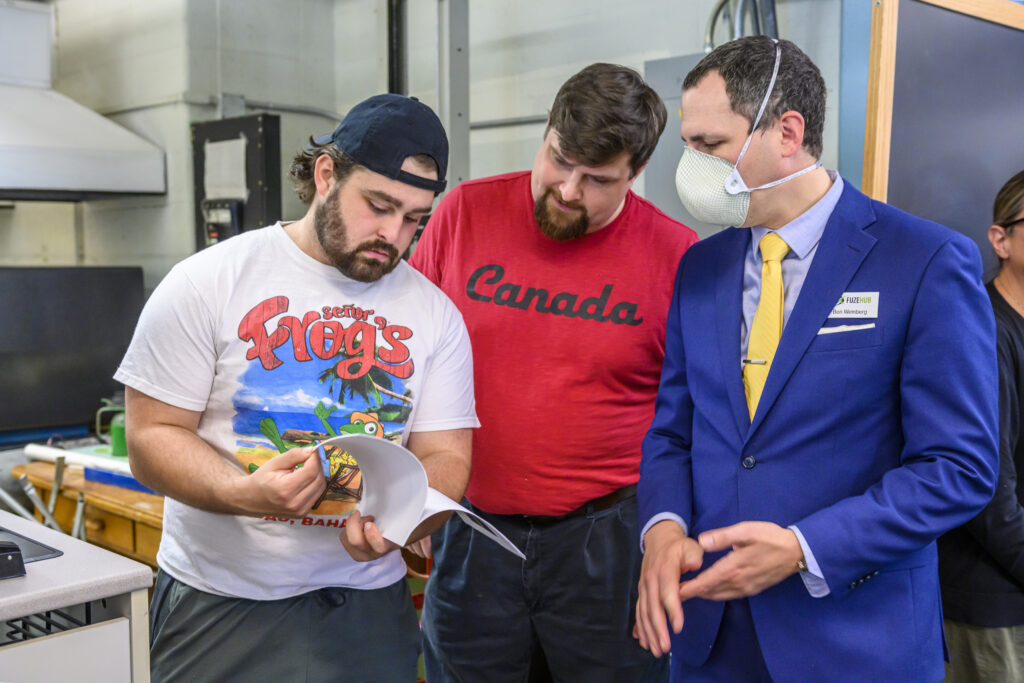 For the four HVCC students, the opportunity to formally present what they learned was an important part of the experience. So was the opportunity to collaborate, and to engage attendees with different backgrounds. As an Engineering Support Specialist for FuzeHub, Weinberg focuses on technologies that can predict failures in robotic cells; however, not everyone in the audience had setup and used a cobot like the UR5 before.   
"I was impressed by the student's ingenuity and resourcefulness," Weinberg said. "They taught themselves robot programming, designed custom tooling fixtures, and did it all with a pretty formal project plan. It was very impressive." 
For Professor Baxter, the semester-ending capstone presentations mark the beginning of an exciting new chapter. Next year, the Mechanical Engineering Department is moving to the college's Hass Building, where the Advanced Manufacturing Technology program has purchased several UR5 and UR10 robots. This investment will provide additional opportunities for student collaboration, and Baxter envisions combing work from student clubs in mechanical and electrical engineering.
"We are looking forward to expanding on this success next year," Baxter said.