Over 130 students from across the Mohawk Valley toured local companies on Friday, October 8, 2021, during Mohawk Valley Manufacturing Day. This in-person event was organized by Mohawk Valley Community College (MVCC), the Advanced Institute for Manufacturing (AIM), and FuzeHub. It was the third year in a row that MVCC, AIM, and FuzeHub have partnered on a Manufacturing Day event and the first one to include factory tours.
During the morning event, students from seven schools toured five local businesses and made what AIM Director Cory Albrecht called "instant connections" with regional employers. "This was not about bringing them on a field trip", Albrecht said. Rather, "the students were genuinely interested in the companies and career opportunities." In addition to facility tours, students received gift bags with hand sanitizer, germ keys, and pens from FuzeHub and webcam covers, safety glasses, lanyards, MVCC folders, AIM and MVCC pens, MVCC cinch sacks, and brochures from MVCC.
The participating Mohawk Valley manufacturers were Tractor Supply, Twin Rivers Paper, CTM Corp., Taylor Made Systems, and FIS (Giotto Enterprises). Students learned about each company's business and how manufacturers need employees to perform many different functions.

Tractor Supply
Tractor Supply Company's Frankfort Distribution Center hosted 30 students from Central Valley Academy. The facility's maintenance manager explained how students could apply for a job there right out of high school and emphasized the importance of integrity, commitment, hard work, communication, and teamwork. Students also received Tractor Supply swag such as water bottles and learned about a Tech Training program that has propelled some workers to six-figure incomes within three years of being hired.
Twin Rivers Paper
Twin Rivers Paper Company in Little Falls hosted 15 students from nearby Little Falls High School. This large manufacturer is an integrated specialty paper company that produces specialty packaging, technical, label and publishing papers as well as softwood lumber at locations in several different states. Students received a facility tour, information about careers with the company, and thermal lunch bags, hand sanitizer, pens, post-it notes, and mints.
Custom Tool & Model
Custom Tool & Model (CTM) Corp. in Frankfort hosted 20 students from the Herkimer Central School District. The precision machining company also welcomed students from the Valley Pathways in Technology Early College High School (VP-TECH) program at Herkimer-Fulton-Hamilton-Otsego BOCES. Along with a facility tour, students received custom keychains that CTM laser-engraved with each student's name.
Taylor Made Systems
Taylor Made Systems in Gloversville hosted 18 students from Fulton County Schools and 16 students from the P-TECH program at Herkimer-Fulton-Hamilton-Otsego BOCES.  The manufacturer of boat windshields has a 100+ year history that began in 1908. Along with a facility tour, Taylor Made Systems provided the students with breakfast.
FIS (Giotto Enterprises)
FIS Blue in Oriskany hosted 31 students from the MV Tech Corps program at Mohawk Valley Community College. Fiber Instrument Sales (FIS) is the flagship company of Giotto Enterprises, which owns seven businesses and employs more than 400 people in the Mohawk Valley. Students were given a tour of FIS along with employment applications.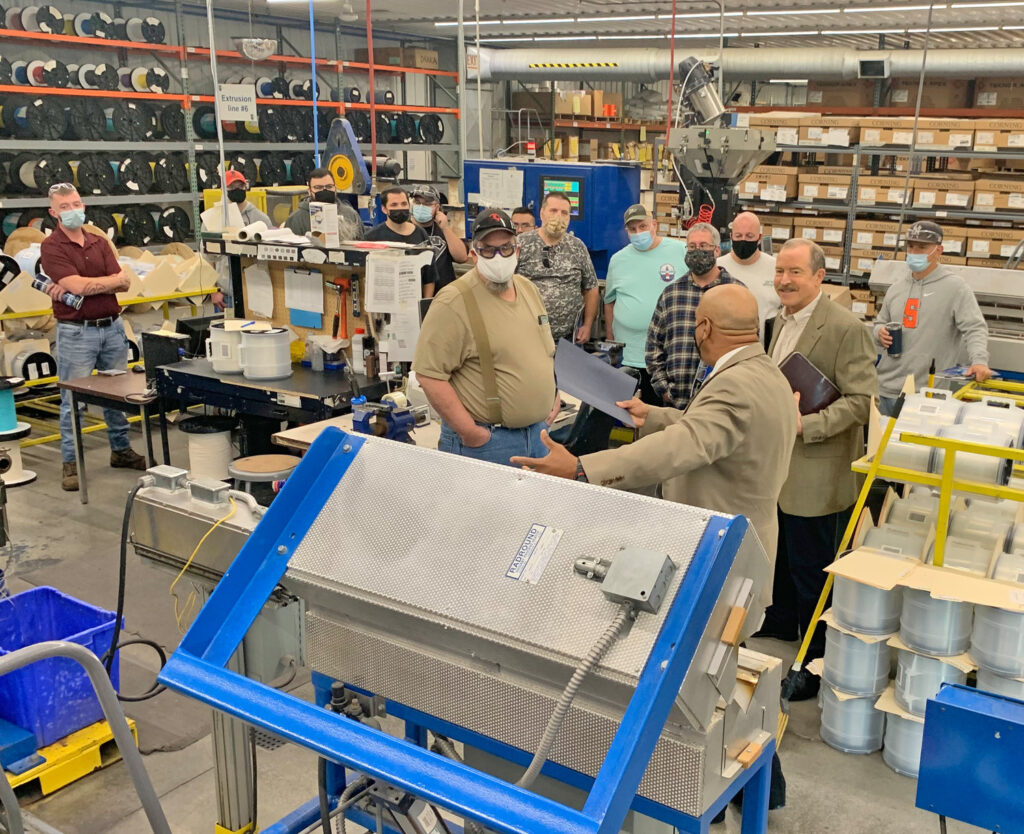 Franca Armstrong, Associate Vice President of Workforce Development and Dean of the Rome Campus at MVCC, and Everton H. Henriques, FuzeHub's NY MEP Solutions Director, co-hosted the event along with FIS executives who provided a comprehensive tour and presentation on the manufacturing of FIS fiber optic products.  "It was an eye-opening experience for the MV Tech Corps students," Henriques said. "They were able to see firsthand that the skill set they are acquiring at MVCC is directly transferable to the manufacturing of a product that is used in almost all facets of our fiber optic communication network.