Food, agriculture, technology, and manufacturing companies enjoyed B2B networking opportunities, informational sessions, and local cuisine at Vitality in the Valley, an annual Manufacturing Expo held at Herkimer College in Herkimer, New York on June 6 and 7, 2023. This year's event was bigger and better than ever with nearly 130 exhibitors, attendees, and guests. WKTV, the Mohawk Valley's leading TV station, was also on the scene with a camera crew and reporter.
Vitality in the Valley 2023 was organized by FuzeHub in partnership with Herkimer College, the Advanced Institute of Manufacturing (AIM), and the Herkimer County Industrial Development Agency (IDA). FuzeHub, AIM, Herkimer College, and the Herkimer IDA also sponsored the event in conjunction with Mohawk Valley Edge, National Grid, and SUNY Apprenticeship Programs. Planning for the two-day Expo began when snow was still on the ground, but spring was in full swing when the first exhibitors arrived.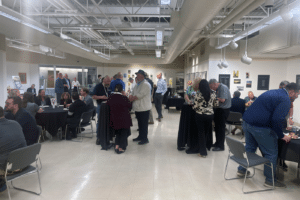 The event began with an exhibitor setup and networking reception on Tuesday, June 6th. Participants appreciated the opportunity to connect informally and enjoyed local food and beverages, including a generous donation from the F.X. Matt Brewing Company. When the main event began on the morning of June 7th, exhibitors joined attendees and guests at a breakfast that again featured fare from American Dining Creations, which provides food service at Herkimer College.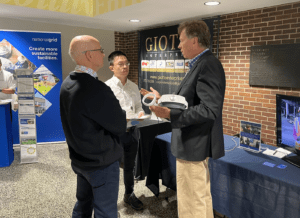 FuzeHub's Everton H. Henriques, the event's emcee, welcomed everyone to Vitality in the Valley at 8:30 AM sharp. Bill McDonald of Herkimer College and Tim Thomas of Mohawk Valley Community College (MVCC) spoke next. David Casullo, the CEO of Rock City Development, LLC, then gave a stirring keynote address before the exhibitor showcase began at 9:30 AM. An hour before lunch, participants left the exhibitor hall and whetted their appetites for information at concurrent breakout sessions.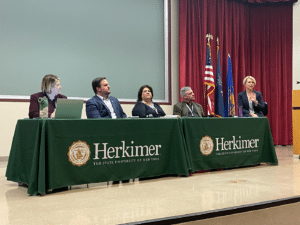 Miriam Dushane of Alaant Workforce Solutions moderated a Workforce Development panel and FuzeHub's Steve Melito moderated an Industry Funding Panel. The workforce panelists were SUNY's Cynthia Proctor, MVCC's Franca Armstrong, WDI's Dan Cullen, and Mark Cushman from Giotto Enterprises. The industry funding panelists were NY Ventures' Marcia Mitchell, Cornell's Ken Rother, FuzeHub's Patty Rechberger, and Tim Fitzgerald of Mohawk Valley EDGE.
After a lunch that featured local delicacies such as Utica Greens and locally-sourced foods such as chicken from Jones Family Farms, everyone returned to the exhibitor hall for additional networking. When Vitality in the Valley concluded at 3:00 PM, participants left with goodies such as biscotti and promised to see each other next year.