Facing a global microchip shortage, manufacturers have navigated immense challenges to produce electronic goods throughout the pandemic. It has created economic ripple effects for consumers — from backorders of laptops and smartphones to low inventories of cars to higher prices for appliances.
Demand had already exceeded supply in the years before the pandemic, but the factory shutdowns and shipping disruptions that emerged as the coronavirus spread exacerbated the problem.
The current supply issues follow a significant drop in the U.S. share of semiconductor production over the last 30 years. While about 40% of semiconductors were manufactured in the U.S. in the 1990s, just 12% were produced domestically in 2020.
It's a complex challenge with global and national implications — but New Yorkers don't ignore challenges. They tackle them head-on — and New York State is ready for it.
Not only is New York home to major chip manufacturers like GLOBALFOUNDRIES and Wolfspeed, but the state has also built a robust, statewide network of innovation resources through NYSTAR, Empire State Development's Division of Science, Technology, and Innovation.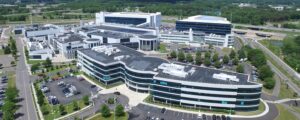 Among the most prominent New York-based assets serving the industry, the Albany NanoTech Complex is the most advanced, publicly owned, 300-millimeter semiconductor research facility in North America. Corporate partners collaborating at the site include IBM, Samsung, Intel, Applied Materials Inc., Tokyo Electron Limited, ASML, and Lam Research. New York State has also developed more shovel-ready sites for microchip factories than any other state in the U.S.
Recognizing the state's powerhouse capabilities for the semiconductor industry, Governor Kathy Hochul recently called for New York State to be selected as the headquarters for the National Semiconductor Technology Center, which is one of the provisions within the Creating Helpful Incentives to Produce Semiconductors for America, or CHIPS, Act. The governor's Bloomberg Opinion essay – "America's Microchip Resurgence Runs Through New York" – has brought national attention to New York's readiness to lead the country out of the semiconductor crunch. The state has prepared for this moment, Governor Hochul explains, through decades of statewide investment, collaboration and development.
A Growing Innovation Ecosystem Attracting Talent and Companies to New York
NYSTAR oversees ongoing, annual investments into the state's innovation infrastructure — which provides researchers, entrepreneurs, and business leaders with access to the support they need to solve challenges and keep growing. This network includes several university-based centers that are specifically focused on semiconductors and microelectronics, and their work is complemented by centers working in the interconnected field of photonics.
Over a dozen NYSTAR-funded centers in regions across New York State are driving innovation in the semiconductor, microelectronics, and photonics industries. They conduct their own research into emerging fields of thinking, partner with companies to drive breakthrough discoveries, and work with entrepreneurs to launch startups and commercialize new technologies.
Working collaboratively, this network of organizations has created an innovation ecosystem that nurtures the development of individual tech and manufacturing companies while growing the industries' statewide economic impact. This ecosystem has made New York State a destination for talent, startups, and established firms that specialize in semiconductors, microelectronics, and photonics.
Accessing the NYSTAR Network of Innovation Resources
The state's innovation infrastructure in the fields of semiconductors, microelectronics, and photonics includes:
These centers, primarily based at universities, accelerate academic-industry collaboration and drive technology-led economic growth. While several centers apply an industry-wide focus to their work, others offer specialized expertise in specific sub-sectors within the semiconductor and microelectronics industries.
Beyond these resources, NYSTAR provides funding support to 10 Innovation Hot Spots, over 20 state-certified business incubators, 11 centers of the New York Manufacturing Extension Partnership as well as several other Centers of Excellence and Centers for Advanced Technology. Together, they offer wraparound services that help early-stage and established companies solve challenges, develop technologies, gain traction and grow faster.
Researchers, startup founders, and business leaders interested in tapping into this network of resources can get started by contacting FuzeHub for consultation and assistance in navigating the state's innovation infrastructure.
Recent Highlights in Semiconductor, Microelectronics, Photonics Innovation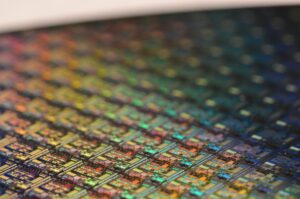 NYSTAR-backed innovation centers across the state are continuously marching forward to deliver new discoveries, launch companies, and build impactful partnerships and collaborations. They have cultivated the growth of the semiconductor and photonics industries regionally while serving as a magnet for people and businesses that want to be a part of New York's thriving innovation ecosystem.
NYSTAR serves as the catalyst, providing state investment and facilitating collaborations to fuel efforts like those below.
SUNY Poly's Center for Advanced Technology in Nanomaterials and Nanoelectronics (CATN2)
Conceived, created, and launched by CATN2, the NY Power Electronics Manufacturing Consortium played a significant role in attracting Wolfspeed and Danfoss Silicon Power to New York State. Now that they've helped build a cluster of companies in the power semiconductor industry, they're working to build on the momentum.
They want to establish a High Voltage Testing Center to support SUNY Poly research and industrial partners, including NextGen Power Systems in Syracuse. They expect this new center will be key to bringing more grant funding to SUNY Poly's Capital Region facilities.
They're also expanding R&D capabilities to accelerate the switch from silicon-power semiconductors to wide-bandgap technology, and they're growing NoMIS Power Group, a SUNY Poly-born startup that has already secured $500,000 in federal funding for its next-gen power semiconductor and packaging.
SUNY Poly's Center for Excellence in Nanoelectronics and Nanotechnology (CENN)
CENN and CATN2 have developed a longstanding relationship with Tokyo Electron Limited (TEL) – which recently awarded $2.3 million to the SUNY Poly centers as part of a joint investment that will keep New York on the cutting edge of semiconductor technology and attract some of the world's top talent.
The TEL effort is expanding CATN2 and CENN's research in plasma science, sub-10nm transistor production, and atomic-layer etch technology, which is of vital interest to the semiconductor industry. The program is also creating a pipeline of at least five Ph.D. Candidates in this emerging technology area. This influx of specialized semiconductor talent can be game-changing for the region and the state.
FlexMed at Binghamton University
FlexMed is working with the military and GE Research to develop a "smart patch" that could revolutionize emergency critical care. Imagine a wearable patch, like a bandage, that has tiny sensors, wirelessly transmitting vital signs to nurses or doctors in real-time. This is the future of critical care — and it's currently in clinical trials.
Its most immediate application will be for military use — for example, the patch will tell medics who need the most immediate medical attention during transport.
But the technology also has huge potential in hospitals and homes. In a future pandemic or natural disaster scenario, when ICU beds are in short supply, or even past capacity, a wearable patch that monitors vitals would be a powerful tool for triaging.
Clarkson's Center for Advanced Materials Processing (CAMP)
Phoebus Optoelectronics, a North Country-based company that is closely connected to NYSTAR-supported CAMP, is working with NASA on new technology that could have huge impacts on the study of greenhouse gasses.
NASA currently measures gasses with equipment that is bulky, heavy, and expensive. Phoebus has developed a spectrometer that's the size of a chip — meaning it's small and light — and cheaper to manufacture.
The uses go beyond studying greenhouse gasses on earth and in space. For example, this equipment could help monitor oil fields, or pinpoint the chemical composition of gas-based terror attacks. Because of its size, Phoebus' tech has the potential to be used not only in orbit but also on the ground, in handheld units such as cameras.
Their NASA project is now wrapping up its first phase. Within the next few months, it will enter the instrument incubation program — which means it's one step closer to being used in NASA missions.
In addition to CAMP, the Phoebus team includes Ball Aerospace and AER Corp.
Superconductivity research at the University of Rochester
The challenge with superconductivity has been the necessity of extremely cold temperatures which makes the technology expensive and impractical for wider use. Ranga Dias, an assistant professor of mechanical engineering and of physics and astronomy at the University of Rochester, has found a way to use extremely high pressures at room temperature, opening new possibilities in the application of superconductors.
Dias and his research team used a diamond anvil cell, which acted as a material search engine, to test materials at different pressures until they found the ideal conditions to achieve superconductivity for each material.
They were able to create material that showed superconductivity at about 58 degrees Fahrenheit and a pressure of about 39 million pounds per square inch (psi).
Applications for this include reducing resistance in power grid transmissions to increase production, capacity, and efficiency, along with uses in medical imaging and consumer electronics.
For his work, Dias was part of the 2021 TIME 100 Next list highlighting emerging leaders who are shaping the future.